Having your kitchen painted can totally transform the space's character into a new one. Apart from that, a new paint job can make any kitchen feel more welcoming, cleaner and cozier especially when it's done properly. Now, do you know which colors suit well your kitchen walls and why? Let us explore more about a few considerations to make as you select the best color to coat your kitchen. Also, let us discover some classic colors that mostly work in any area.?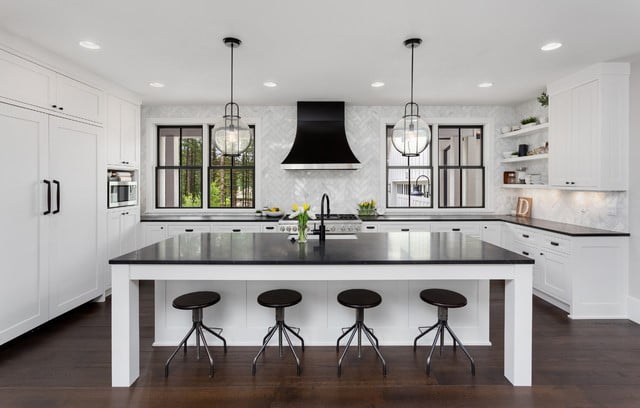 Things to consider in painting your kitchen area
Try to observe your kitchen now. Take a good look at its flooring, windows, cabinets, countertops, and tile, and ask yourself: What character would you like to provide this particular area of your house? Is there a theme? When you have an open, airy, and light kitchen with white and clean cabinets, then you probably need to go for natural tones that can match the theme.? 
On the other hand, if you got a kitchen with a dark tile backsplash, dark wood floors, brass fixtures, and warm wood cabinets, then a bold slate or red color may perfectly work to keep up with your kitchen's rich character.?
Because changing the paint of your kitchen is the easiest facelift process to do compared to changing countertops, flooring, tile, etc., it would be ideal to base the paint color you want to use for your upcoming kitchen the same. But if you want to do a full kitchen remodel, then you can choose another color that you want to achieve a new look and character to your kitchen. Make sure to get a lot of color swatches of paint, and compare all your options with the surroundings, furnishings, and fixtures of your kitchen to help you settle on the ideal option for your paint.?
Classic paint colors
Above all, you will need to stay away from using gaudy colors in your kitchen. Rather, it's best to go for natural colors, such as colors that can be highly associated with plant life, such as aquamarines, lime, or avocado green. Lively earthy tones would work best in kitchens because we get to see food and greenery in this place more often. Such hues are ideal especially when you plan on keeping some houseplants within your kitchen as well.
Moreover, you can go for dark neutral tones, like espresso brown, charcoal, or slate. Take such colors into considerations especially if you have a kitchen with a richer character, and make sure not to overly use the dark tones, particularly when your kitchen is smaller to avoid making your room look even smaller.?
If you are already prepared to give a facelift to your kitchen or any home surface you want to update—be it your exterior or interior surface—you can contact a professional commercial and residential painting company who can give the best?painting services in Washington DC. If you're not sure and not well-equipped on painting projects, then do not hesitate to contact them and be guided to get started and achieve the best painting quality ever.